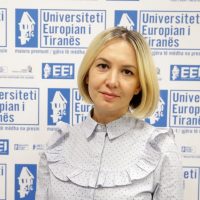 Dr. Elsida Sinaj
Position at UET: Lecturer, Department of Psychology, Education and Sports, Faculty of Humanities, Education and Liberal Arts.
Elsida has been actively engaged in the Student Care Office in which she also holds the position of Dean of Students. Elsida has experience in research work mainly in the field of Health Psychology and Counseling on issues related to quality and lifestyle, chronic diseases and psychological disorders in old age, health behaviors in students and teachers, personality traits, Career Counseling, etc. Elsida has also worked as a Mental Health Specialist as Public Health Directory in the Office of Psychosocial Service, has experience in the field of teaching, where she has worked as a teacher in 9-year and secondary schools.
She published various articles in scientific journals, as well as participated in several national and international scientific conferences.