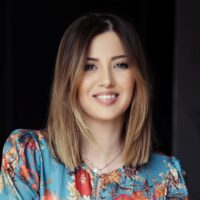 Dr. Brunilda Hoxhaj
Doctor of Social Sciences and Social Policy, University of Tirana, Faculty of Social Sciences. MsC in the field of Social Policy for target groups in need, University of Tirana. Licensed BWRT Psychotherapist at Terence Watts Institute, London. Specialized in Behavior Analysis, Florida Institute of Technology. Master NLP(Neuro-Linguistic Programming)Practitioner, The Priority Academy.
Training and qualifications in addressing issues and counseling children in street situations, abused women and girls, Roma and Egyptian minorities, the elderly.
Author of several publications in the field of providing social services for the elderly and policies about these services in scientific journals at home and abroad.
With 9 years of experience in teaching at university level in the public and non-public sector, experience in the field of social services, national and international civil society. Part-time lecturer at the University of Tirana (2016-2020), at the Faculty of Social Sciences, at the Department of Work and Social Policies. Currently full-time lecturer at UET, at the Department of Psychology, Education and Sports, Faculty of Humanities, Education and Liberal Arts.