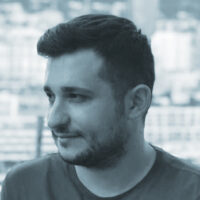 Msc. Gejsi Tafa
Gejsi Tafa was born on 07/12/1992 in Tirana. He is a creative designer and assistant lecturer at the European University of Tirana.
He has completed a bachelor's degree in Transportation Design at the Istituto Europeo di Design (2011-2014 in Turin, Italy) and a Master's degree in Transportation Design at the Strate École de Design (2016-2018 in Sèvres, France).
During the years 2014-2016 he has collaborated with well-known entities in the field of Albanian publications such as the OMBRA GVG Publishing House, Dituria Publishing House, and the Association of Albanian Publishers (AAP). Has realized the project of visual branding of the 18th Tirana Book Fair (2015), the design of the pavilion of the Albanian delegation at the Leipzig Book Fair (2015) in Germany, as well as the design of the AAP stand at the Podgorica Book Fair (2015) in Montenegro.
Throughout his master's degree studies, he has worked on several projects in partnership with Renault, Faurecia, GEFCO and Schoolab in the field of Automotive Design and Logistics Design.
For years he has been working as a consultant and freelance designer for various clients in the field of digital, graphic, and industrial design.
In 2018 he published the book "History of Design" by the author Prof. Gabriella D'Amato, which she translated from Italian into Albanian. He also worked as a graphic designer (cover, layout, and advertising campaign) for the publication.
Gejsi Tafa has participated in several international design competitions. He recently won the silver award in the Car Design Concept category at the IAI Design Award 2019 international competition with the "Toyota FJ-id Experience" project.