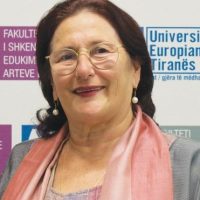 Prof. Dr. Elida Miraj
University Diploma in Architecture; post University Diploma in Archaeology and Ancient History of Albania; Doctor of Sciences in Archaeology, Archaeological Institute, Academy of Sciences, Tirana; Post Doctoral Studies in the French School of Rome; Deutsche Archaeologische Institut, Berlin; Dumbarton Oaks, Washington D.C., Institute of Harvard University ( http://www.doaks.org 1996-97.  Byzantine Fellows List, 1996/97 Dumbarton Oaks).
Author of books and scientific articles in scientific journals within and outside Albania, focused in archaeology, architecture and history.  Leader of archaeological excavations, architectural restorations, architectural designs, town planning and consultancy.  President of the Albanian Association of Byzantine Studies; Council Member of Europa Nostra, the Voice of Cultural Heritage in Europe, (The Hague) (http://www.europanostra.org/council); Deputy President, Albanian Association of Consulting Engineers; Member of Albanian Association of Architects, former general Secretary of Albanian Archaeological Association.  Professor of the History of Architecture and Architectural Restoration in different Universities, Tirana.  Present, full time  professor In European University of Tirana, the Department of Engineering and Architecture.