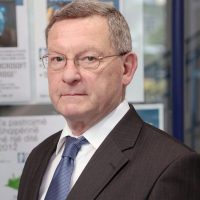 Prof. Dr. Aleksandër Dhima
Prof. Emeritus, Prof. Dr. Aleksandër Dhima, Senior Researcher
Prof. Dhima is an anthropologist and has been lecturing for more than 40 years in different universities and director and project manager in some public and international foundations. He has directed 37 field work researches and has been actively involved in several projects dealing with civil society, political parties, religion and democracy in Albania. He is author of 5 monographies, 3 text books, 60 scientific articles (6 with impact-factor) and 6 policy papers in different fields of applied Anthropology.
Areas of expertise:
Socio-Cultural Systems;
Gender Anthropology;
Anthropology of Communication;
Political Anthropology;
Anthropology of Law;
Forensic Anthropology;
Anatomy of the human body.
Thematics:
1- Classic and modern anthropological theories; Their impact on the analysis of local social and cultural indicators;
2- Social-cultural evolution of norms and values by societies in transition;
3- Cultural ethno-antropological model of Albanians;
4- Gender identity in anthropological point of view;
5- Evolution and controll of political and economic systems in time and in regional context;
6- Functional components of law and alternative perspectives of social control;
7- New methods of inter-cultural communication;
8- Globalization and mediatic fragmentarization.
9- Human Anatomy, applied in Medical Technical Sciences.