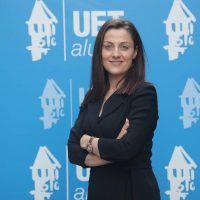 MSc. Esida Hoxha (Caushi)
Master of Science in Physiotherapy, University of Medicine / Faculty of Medical Technical Sciences, Tirana 2008-2013. Specializing in scientific research and clinical management on "Spinal deformities in children and adolescents (Scoliosis / Kyphosis)". Second degree "General Nursing" Albanian University 2013-2015. 8-year clinical experience in Physiotherapeutic Rehabilitation of various pathologies. 2019-2021 Mentor of the Club "Hippocrates" and Career Counselor FSHMT / UET.
Currently full-time lecturer at UET, at the Faculty of Medical Technical Sciences, Department of Nursing and Physiotherapy.