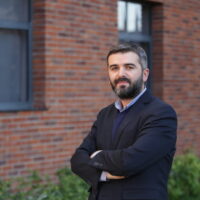 Msc. Besian Zogaj
Besian Zogaj has completed his Bachelor studies in "Political Science and International Relations" followed by a master's program in "International Relations" at the "Sapienza" University of Rome, awarded with excellent results!
Zogaj has conducted several trainings in various fields such as human rights, refugee rights, asylum law, etc. organized by the United Nations and its Specialized Agencies, as well as some advanced trainings on the European Integration Process.
Upon his return in 2009, he initially engaged in the research project of the European University of Tirana on "the reasons for the oppression of the intellectual layer during the communist regime" followed by several projects focusing on electoral issues, protection of human rights, communication and media. The year 2013 marks the inception of his diplomatic career at the Ministry of Foreign Affairs of the Republic of Albania as the Desk of Italy at the General Directorate of Europe and Neighboring Countries. Throughout his 8-year long career in the realm of foreign policy he has served as Assistant for European Integration Issues in the Cabinet of the President and Adviser on Multilateral Affairs and later on for the Region in the Ministry of Europe and Foreign Affairs.
He has assisted in several important national and international projects in the field of communication, political and electoral issues, as well as issues of regional cooperation!
Zogaj is the author of several works in philosophy, political doctrine, foreign policy issues of the Republic of Albania!
In October 2021 he joined the academic staff of the European University of Tirana as an assistant lecturer at the Department of Political Science!