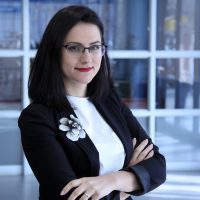 Dr. Elona Shehu
ACADEMIC QUALIFICATION
FIELD OF STUDIES AND UNIVERSITY
Doctoral Studies
Doctor of Science in Finance – Corporate Governance, European University of Tirana
Master Studies
Master ne Administrim Biznesi: Specializuar në Menaxhim Financiar: VU Amsterdam, Holande.

Master Shkencor në Ekonomi dhe Financë, Universiteti Europian i Tiranës: Tiranë, Shqipëri.

Bachelor Studies
Bachelor's in finance and Banking, European University of Tirana.
Elona Shehu is a Doctor of Science in Banking and Corporate Governance field at European University of Tirana. She studied in Albania, Netherlands and one semester in Budapest, at Obuda University, doctoral school. She has about 12 years' experience in finance, where she was appointed as the Administrator of the European Education Initiative company. She also has more than 8 years of academic experience as lecturer assistant at first, lecturer from 2017 and was appointed as Head of Department for Economics and Finance recently. She has referred at several conferences and published a considerable number of papers