Studentja e UET, Klerisa Azuni fituese e Konkursit të Ideve të Sipërmarrjes së studentëve nga universitetet e Ballkanit Perëndimor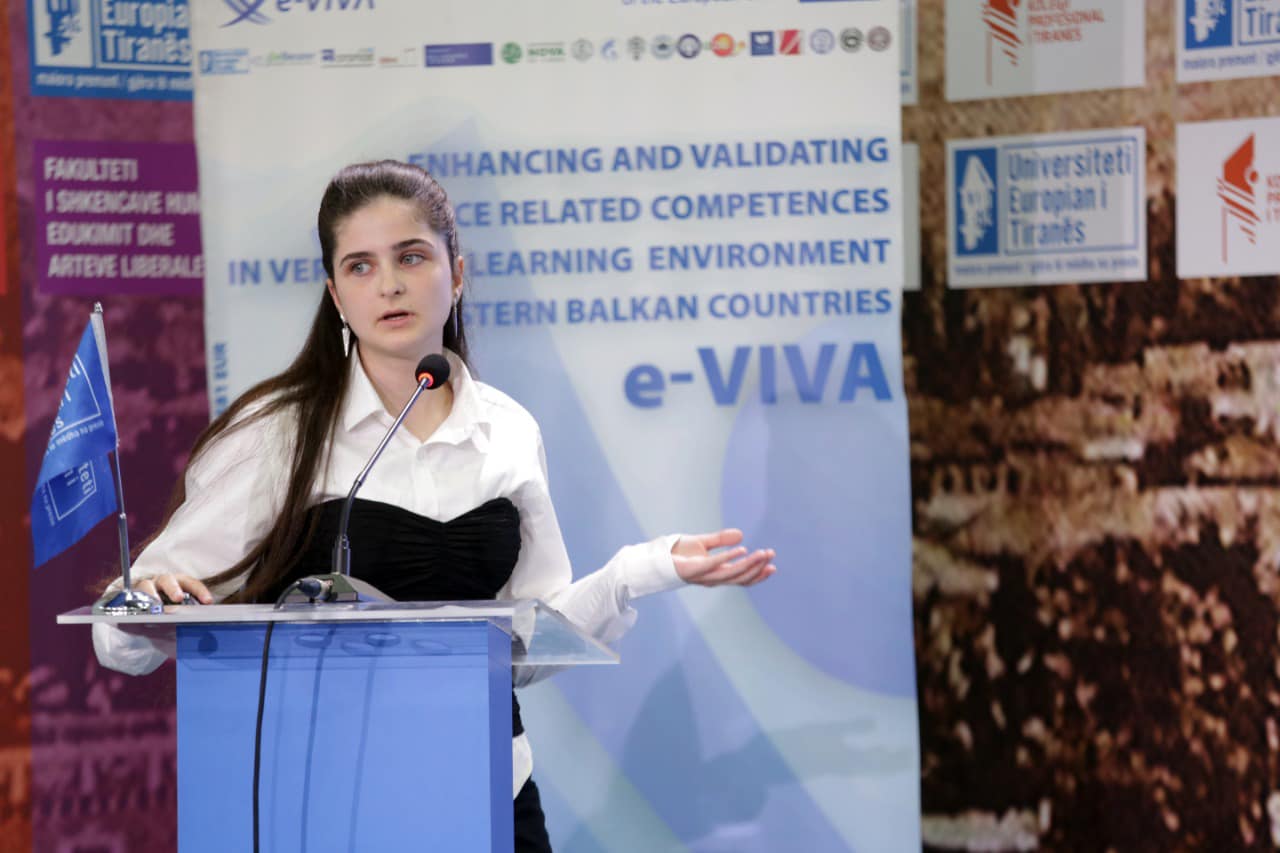 Konferenca përmbyllëse e konkursit të ideve sipërmarrëse u  zhvillua në UET në "Transnational Dissemination Conference" në kuadër të Javës Ndërkombëtare në Universitetin Europian të Tiranës, në kuadrin e projektit Erasmus+  e–VIVA.
Skuadra fituese e këtij konkursi me pjesëmarrës nga studentë nga universitetet e Ballkanit Perëndimor, ishte ideja "Power B", prezantuar nga Klerisa Azuni studente e komunikimit në Universitetin Europian të Tiranës.  PowerB është një pajisje e konvertimit të energjisë mekanike në elektrike, e lëvizshme, dhe që mund të përdoret në ndërprerjet e energjisë ose në zona me mungesë të energjisë elektrike.
Ky projekt, ku lider ishte Universiteti Europian i Tiramës kishte një buxhet afro 1 milion Euro dhe përfshiu dhe 15 institucione të arsimit të lartë nga rajoni dhe Europa si; Die Berater® Unternehmensberatung GmbH / dB – Austri; Blended learning institutions'cooperative / blinc eG – Gjermani; University of Duisburg Essen – Gjermani; Universidade Nova de Lisboa – Portugali;  Cyril and Methodius University in Skopje – RMV; Mother Teresa University – RMV;  Universiteti i Elbasanit "Aleksandër Xhuvani" – Shqipëri; University of Sarajevo – Bosnje & Herzegovinë; University Sarajevo School of Science and Technology – Bosnje & Herzegovinë; University of Donja Gorica – Mal i Zi; University of Montenegro – Mal i Zi; Universum College – Kosovë; Universiteti "Kadri Zeka" Gjilan – Kosovë; University of Novi Sad – Serbi; University of Niš – Serbi.
Projekti e-VIVA synon krijimin e një qasjeje mix të të mësuarit, për të lehtësuar dhe validuar zhvillimin e kompetencave që lidhen me shërbimin, në kontekste informale të të mësuarit në universitet dhe në vendin e punës. Nëpërmjet projektit e-VIVA, kompetencat e lidhura me shërbimimin fitohen bazuar në: Entrecomp – skema e  kompetencave për sipërmarrjen e Komisionit Evropian; fokus i fortë te klientët dhe nevojat e tyre; qasje inovative të mësimdhënies dhe të të nxënit, bazuar në një qasje të projektimit të mendimit (Design Thinking); instrumente mikse të mësimdhënies (F2F – e-learning – projekte); validimi i kompetencave përmes Level 5.