Spanjë/ Studentët e UET, fitues për idenë më të mirë të biznesit në kampin veror të Girona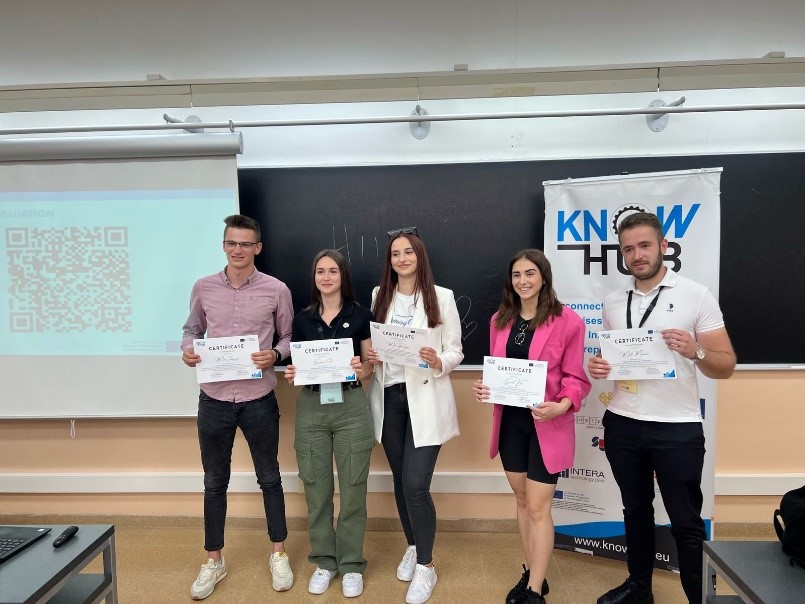 Dy studentë të Universitetit Europian të Tiranës shpallen fitues për idenë më të mirë të biznesit në konkursin e organizuar në Universitetin e Girona-s. Ky konkurs u zhvillua në kuadër të kampit veror që universiteti spanjoll organizon dhe ku morën pjesë 11 studentë nga UET
Pesë universitete nga Ballkani dhe 53 të rinj, ku ndër ta 11 ishin studentë të Universitetit Europian të Tiranës. Ata u trajnuan  fushën e sipërmarrjes dhe inovacionit nga pedagogë të Universitetit të Girona-s dhe universiteteve partnere. Gjithashtu ishin pjesë e një konkursi të organizuar mes grupeve të studentëve.
Studentët ishin pjesë e kampit veror dy javor, në Girona të Spanjës,  "Girona Bootcamp 2022", të organizuar nga universiteti me të njëjtin emër, në kuadër të projektit europian Erasmus+ "Reconnecting universities and enterprises to unleash regional innovation and entrepreneurial activity" (KnoëHUB), të financuar nga Bashkimi Europian.
Ky projekt synon të krijojë ura lidhjeje mes universiteteve dhe sipërmarrjeve me qëllimin e dhënies hov  novacionit rajonal dhe veprimtarisë sipërmarrëse.
UET u përfaqësua nga 11 studentë të cilët ishin të ndarë mes fushave të ekonomisë dhe teknologjisë së informacionit. Gjatë kampit veror u nënvizua roli i rëndësishëm që luajnë aftësitë e sipërmarrjes dhe ato dixhitale në tregun e sotëm të punës në demokratizimin dhe zhvillimin e inovacionit në vendet e Ballkanit dhe në tregun global. Pikërisht për këtë arsye UET-ja, jo vetëm mbështet aksionet rinore që rrisin kapacitetet dhe njohuritë e brezit të ri, por gjithashtu ndjek një politikë të qartë për mbështetjen e formimit sipërmarrës tek studentët.
Konkursi i organizuar solli në pah ndjenjën e sipërmarrjes mes studentëve tanë dhe vuri në dukje potencialin e madh që ka sipërmarrje tek të rinjtë shqiptar. Protagonistë të këtij konkursi u bënë dy studente të UET-së, Enida Koni dhe Elvira Çeka, të cilët ishin pjesë e grupit fitues me idenë më të mirë të biznesit, të vlerësuar nga grupi i pedagogëve të Universitetit të Gironës dhe universiteteve partnere.
Vlerësimi i studentëve të UET  është vlerësim jo vetëm i përgatitjes, por edhe e punës së përkushtuar të pedagogëve që i edukojnë dhe i motivojnë  për të arritur suksesin në fushat e tyre. Studentët e Universitetit Europian të Tiranës  treguan potencialin, energjinë dhe ide të reja, si përfaqësues të brezit të ri dhe sipërmarrësve të së ardhmes.