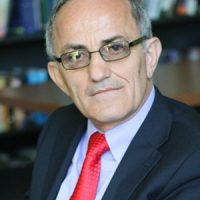 Prof. Dr. Ferit Duka
Lektor në Universitetin Europian të Tiranës
ACADEMIC QUALIFICATION
RESEARCH FIELD AND INSTITUCION
Postdoctoral Researches
Society, Religion, Institutions and Law in the Ottoman and post-Ottoman Albania (Academy of Sciences of Albania, Centre of Albanological Studies, European University of Tirana, General Directorate of Turkish Archives and National Archive of UK).
Title "Professor Doctor"
Academy of Sciences of Albania (28.01.2004)
Titulli "Associated Professor"
Academy of Sciences of Albania (11.01.1997)
Doctoral Studies (Doctor of Sciences in History)
Academy of Sciences of Albania (25.01.1995)
Different Courses of Specialization
– Specializimi pasuniversitar në Turkologji dhe Otomanistikë në Universitetet e Ankarasë dhe Stambollit (vitet 1983,1984 dhe 1989)

-Specializim në demografinë historike në Universitetin e Grazit, Austri (mars-maj 1994)

-Marrja e përvojës nga universitetet britanike duke vizituar universitetet e Oksfordit, Kembrixhit, Londrës, Birmingam, Bredford dhe Lids (nëntor 1995)

-Fitimi i përvojës nga Departamenti i Historisë i Universitetit Katolik të Louvain, Belgjikë (Programi TEMPUS, qershor 1997)
Currently Prof. Duka is a lecturer of the History of Albania and History of Civilizations at the European University of Tirana. Born in the district of Elbasan in 1953, he is graduated in 1977 from the University of Tirana (branch of History and Geography). During the graduate and post-graduate studies he followed intensively the courses in new and old Turkish (Ottoman).
To advance his qualification in Ottomanistics, Prof. Duka made long- and short-term specializations and research in the field of Ottoman History and Language at the universities of Ankara and Istanbul (Turkey) and in the field of Historical Demography at the University of Graz (Austria).
After finishing the graduate studies, he has been appointed archivist to the Albanian State Archive at Tirana in 1977 (Department of Ottoman Documents). Afterwards, since the end of 1979 he worked as a researcher at the Institute of History (Department of Medieval and Ottoman Studies) of the Albanian Academy of Sciences at Tirana.