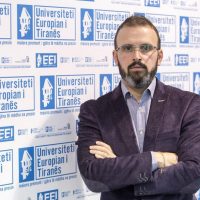 PhD. Florian Çullhaj
Florian Çullhaj, Ph.D., është një politolog i arsimuar në Shqipëri dhe Itali, me një përvojë mbi dhjetëvjeçare në mësimdhënie. Aktualisht, pedagog me kohë të plotë në Universitetin Europian të Tiranës, Floriani mban edhe pozicionin e vlerësuar të pedagogut vizitor në Universitetin e Romës "Tor Vergata". Karriera e tij akademike karakterizohet nga një përkushtim i thellë për promovimin e koncepteve kyçe të teorisë politike.
Fushat e kërkimit të Florianit janë të ndryshme dhe përfshijnë tema vendimtare si kultura politike, teoritë e demokracisë, liberalizmi politik dhe autenticitetin. Puna e tij e gjerë ka kontribuar ndjeshëm në tërësinë e njohurive në këto fusha, duke e bërë atë një studiues të respektuar në komunitetin akademik.
Një nga arritjet më të rëndësishme të Florianit është botimi i librit të tij të parë, Democratization from Within: Political Culture and the Consolidation of Democracy in Post-Communist Albania (Editor: Nuova Cultura, Collana: Crossroads No. 81, Rome, 2017). Ky libër eksploron dinamikën e ndërlikuar të demokratizimit prej së brendshmi dhe rolin e kulturës politike në Shqipërinë postkomuniste, duke hedhur dritë mbi një periudhë kritike në historinë e Shqipërisë.
Krahas librit të tij, Floriani është autor i monografisë "Nga Pabarazia e Populizmit. Politika e Majtës Shqiptare" (Sh.B, UET PRESS, 2022), e cila thellohet në sferën e politike të së majtë në Shqipëri, duke ofruar njohuri të vlefshme për peizazhin politik të vendit.
Për më tepër, Floriani ka një punë të konsiderueshme në formën e artikujve të botuar në revista kombëtare dhe ndërkombëtare me faktorë impakti. Këta artikuj pasqyrojnë përkushtimin e tij ndaj kërkimeve rigoroze dhe kontributin e tij në diskursin e teorisë politike.
Si përfundim, arritjet akademike dhe kërkimore të Florianit e kanë pozicionuar atë si një studiues të dalluar në fushën e teorisë politike. Puna e tij, jo vetëm që zgjeron të kuptuarit tonë për kulturën politike, demokracinë, liberalizmin dhe autenticitetin, por gjithashtu kontribuon në pasurimin akademik dhe intelektual të fushës së teorisë politike.