Chief Negotiator Zef Mazi at UET: The progress that Albania has made towards EU integration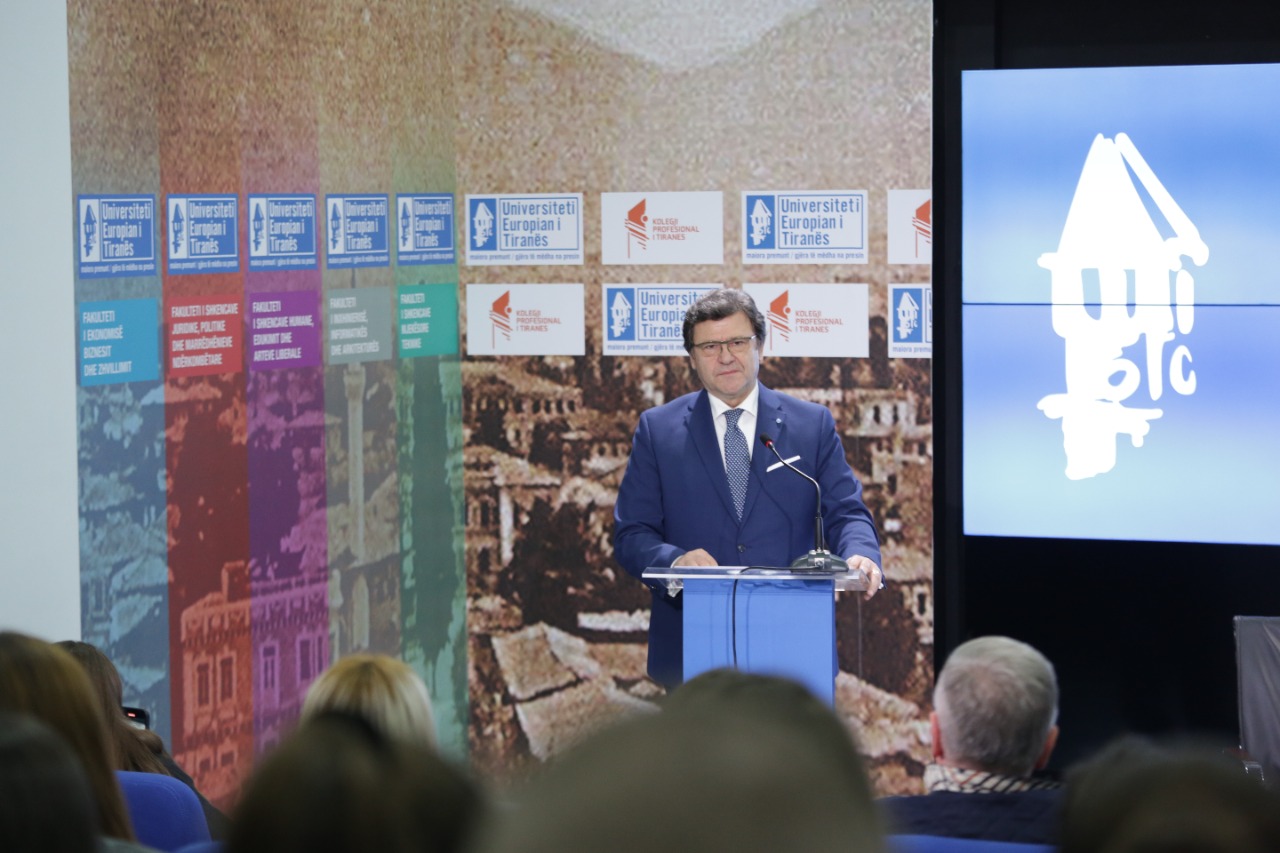 Albania's chief negotiator for EU membership, Zef Mazi was invited to an open lecture at UET, where integration efforts were discussed
"There is no better place than this university to talk about European integration and European issues"", said the chief negotiator of Albania for membership in the European Union, Zef Mazi, present at an open lecture with master students at the European University of Tirana.
Albania's process of Integration into the European Union (EU) is considered as the most strategic national priority, which leads the governing agenda of the country and since June 2014, Albania enjoys the status of EU candidate country.
After a long and challenging journey, with conditions and priorities set and to be met, in March 2020, the member states of the European Union reached a political agreement to open negotiations with Albania and Northern Macedonia.
And just a few months later, Prime Minister Edi Rama introduced diplomat Zef Mazi as Albania's chief negotiator for EU membership.
The Rector of the European University of Tirana, Tonin Gjuraj thanked Ambassador Mazi for his presence in this open lecture and considered valuable his conversation with the professors and students of the university.
"And I want to thank you very much, Ambassador, for being here today, for sharing your vision, your ideas. Students are eager to share with you some of the good experiences and controversial issues, such as whether Albania is a reliable partner of the European Union or whether we will have any good news next month on the road to climbing towards the European Union. "Maybe issues related to justice reform, because we have made some progress to be realistic," said Rector Gjuraj., tha rektori Gjuraj.
He described the figure of chief negotiator Mazi as a realistic, objective, direct and credible man.
"Ambassador Mazi likes to call himself an optimist, in fact he is very realistic, very objective and direct, but above all, he is very reliable,"said Gjuraj.
Ambassador Zef Mazi said that things are going their own way and according to their merits, in terms of EU membership.
."Some have considered integration as a race. But I would prefer to avoid calling it competition, for a very simple reason, because you have no one to compete with. "This is not a question of who gets to the finish line first to lead the race,"said the chief negotiator.
However, the criteria set by the European Union are a prerequisite for membership. Diplomat Mazi, while giving an overview over the years of the progress of meeting the essential conditions for EU integration, along with other reforms, described it as crucial in justice.
"A crucial issue I want to touch on is justice reform. This is part of Chapter 23. And I consider it a crucial issue, because it is really a crucial issue " said Mazi, while emphasizing that he is talking here, among other things, about ensuring the functioning of the Supreme Court and that Constitutional.
Further, Zef Mazi recounted how as chief negotiator, for 18 months he visited 21 capitals, including three times Brussels.
 "We need to prepare seriously, in a more comprehensive way, with dedicated functional structures, well prepared," he said. he said.