Call for Papers – ECONOMICUS 23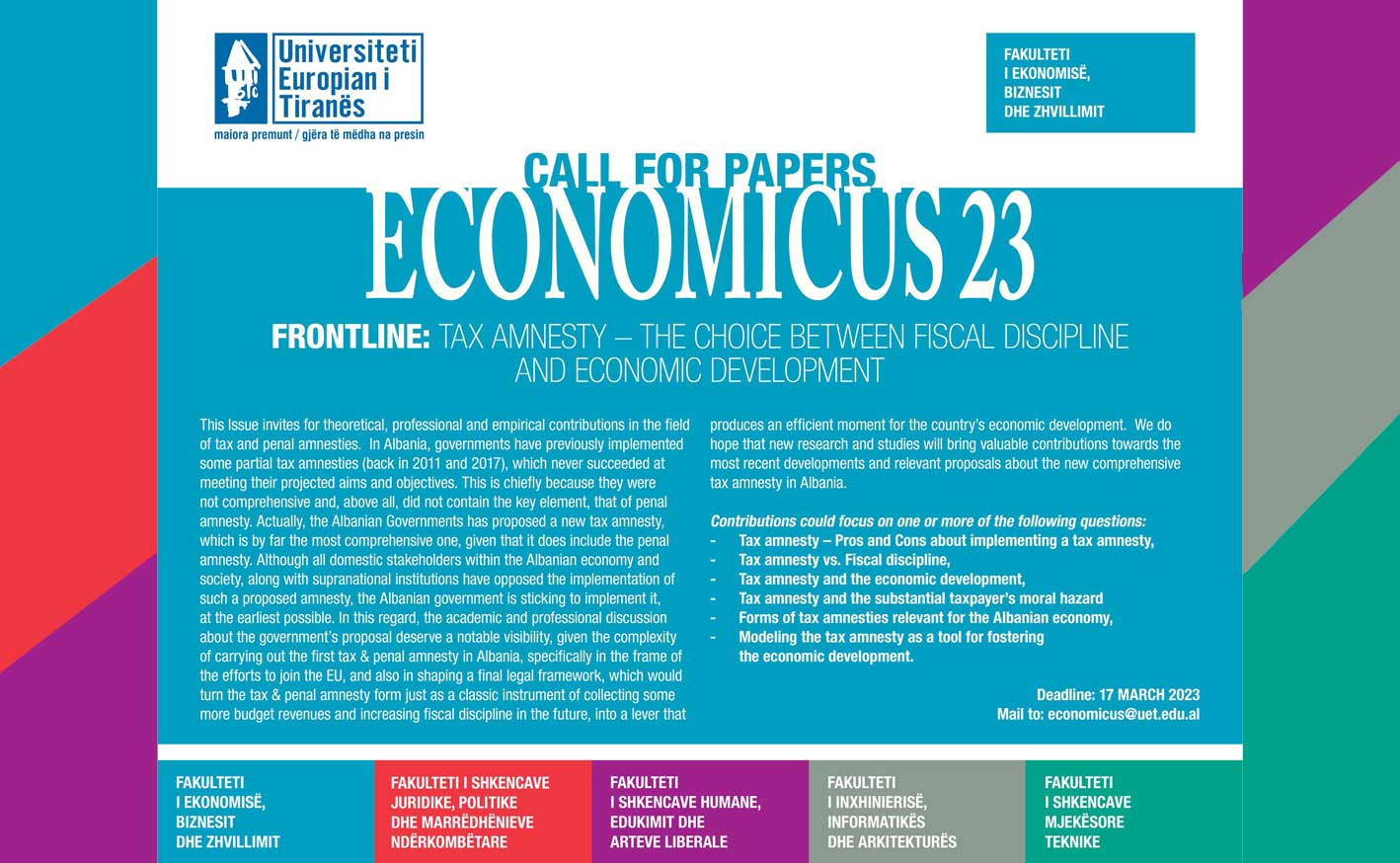 Frontline: Tax Amnesty – the choice between fiscal discipline and economic development
This Issue invites for theoretical, professional and empirical contributions in the field of tax and penal amnesties.
In Albania, governments have previously implemented some partial tax amnesties (back in 2011 and 2017), which never succeeded at meeting their projected aims and objectives. This is chiefly because they were not comprehensive and, above all, did not contain the key element, that of penal amnesty. Actually, the Albanian Governments has proposed a new tax amnesty, which is by far the most comprehensive one, given that it does include the penal amnesty.
Although all domestic stakeholders within the Albanian economy and society, along with supranational institutions have opposed the implementation of such a proposed amnesty. The Albanian government is sticking to implement it, at the earliest possible. In this regard, the academic and professional discussion about the government's proposal deserve a notable visibility, given the complexity of carrying out the first tax & penal amnesty in Albania, specifically in the frame of the efforts to join the EU, and also in shaping a final legal framework, which would turn the tax & penal amnesty form just as a classic instrument of collecting some more budget revenues and increasing fiscal discipline in the future, into a lever that produces an efficient moment for the country's economic development.
We do hope that new research and studies will bring valuable contributions towards the most recent developments and relevant proposals about the new comprehensive tax amnesty in Albania.
Contributions could focus on one or more of the following questions:
–          Tax amnesty – Pros and Cons about implementing a tax amnesty.
–          Tax amnesty vs. Fiscal discipline.
–          Tax amnesty and the economic development.
–          Tax amnesty and the substantial taxpayer's moral hazard.
–          Forms of tax amnesties relevant for the Albanian economy.
–          Modeling the tax amnesty as a tool for fostering the economic development.
Deadline: 17 MARCH 2023
Mail to: [email protected]