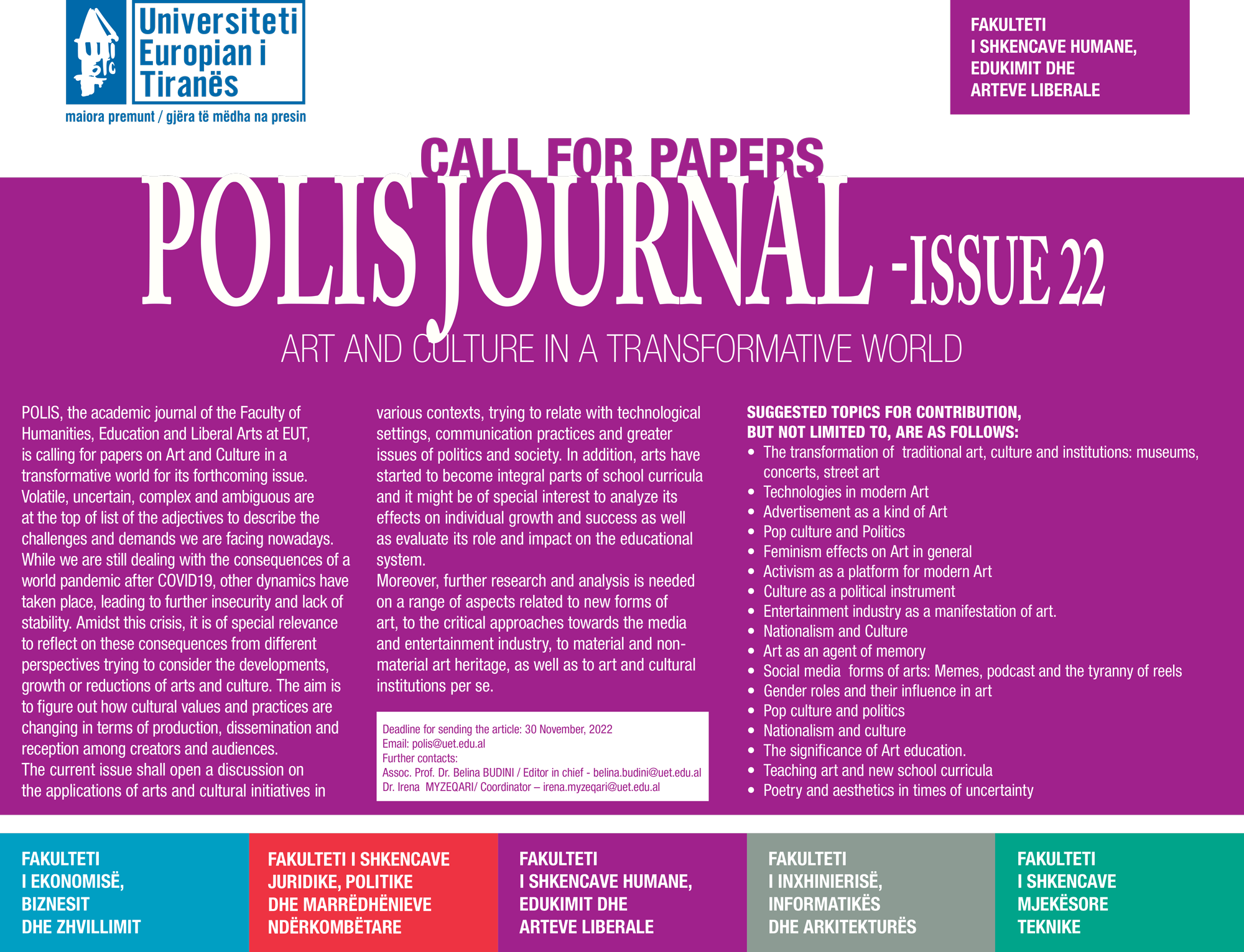 POLIS JOURNAL – ISSUE 22
CALL FOR PAPERS
ART AND CULTURE IN A TRANSFORMATIVE WORLD
POLIS, the academic journal of the Faculty of Humanities, Education and Liberal Arts at EUT, is calling for papers on Art and Culture in a transformative world for its forthcoming issue. Volatile, uncertain, complex and ambiguous are at the top of list of the adjectives to describe the challenges and demands we are facing nowadays. While we are still dealing with the consequences of a world pandemic after COVID19, other dynamics have taken place and leading to further insecurity and lack of stability. Amidst this crisis, it is of special relevance to reflect on these consequences from different perspectives trying to consider the developments, growth or reductions of arts and culture. The aim is to figure out how cultural values and practices are changing in terms of production, dissemination and reception among creators and audiences.
The current issue shall open a discussion on the applications of arts and cultural initiatives in various contexts and trying to relate with technological settings, communication practices and greater issues of politics and society. In addition, arts have started to become integral parts of school curricula and it might be of special interest to analyze its effects on individual growth and success as well as evaluate its role and impact on the educational system.
Moreover, further research and analysis is needed on a range of aspects related to new forms of art, to the critical approaches towards the media and entertainment industry, to material and non- material art heritage, as well as to art and cultural institutions per se.
Suggested topics for contribution, but not limited to, are as follows:
The transformation of traditional art, culture and institutions: museums, concerts, street art
Technologies in modern Art
Advertisement as a kind of Art
Pop culture and Politics
Feminism effects on Art in general
Activism as a platform for modern Art
Culture as a political instrument
Entertainment industry as a manifestation of art.
Nationalism and Culture
Art as an agent of memory
Social media forms of arts: Memes, podcast and the tyranny of reels
Gender roles and their influence in art
Pop culture and politics
Nationalism and culture
The significance of Art education.
Teaching art and new school curricula
Poetry and aesthetics in times of uncertainty
Deadline for sending the article: 30 November, 2022
Email: [email protected]
Further contacts:
Assoc. Prof. Dr. Belina BUDINI / Editor in chief – [email protected]
Dr. Irena  MYZEQARI/ Coordinator – [email protected]
Guidelines about the manuscript
Polis publishes high-quality peer-reviewed original articles that are not under review in any other academic outlet and please be advised that Polis relies on anti-plagiarism programs and submission for publication implies permission for the editors to put the article through such program.
All articles should be written in English.
Articles should be between 4000 – 8000 words long including endnotes and references, Times New Roman, 12 pdf, and be double spaced throughout including endnotes and references.
Review Articles should not exceed 3,000 words, and Book Reviews should not exceed 1,000 words.
A word count must be provided in all cases.
Articles should have an abstract of 200-250 words long. Abstract must have in its structure the following elements. Clearly stated: Context/ Problem/ Method/ Results/Implications/ 3-6 keywords at the end of the abstract.
The cover page of the article should include the name of the author, Academic title, institution affiliation, and a short bibliographical note on the author
The 'APA' references system should be used for bibliographical references in the text and notes. For more information, please consult reputable citation guidelines.
Web: polis.uet.edu.al