Call for Papers – Jus & Justicia Vol. 17, Issue 2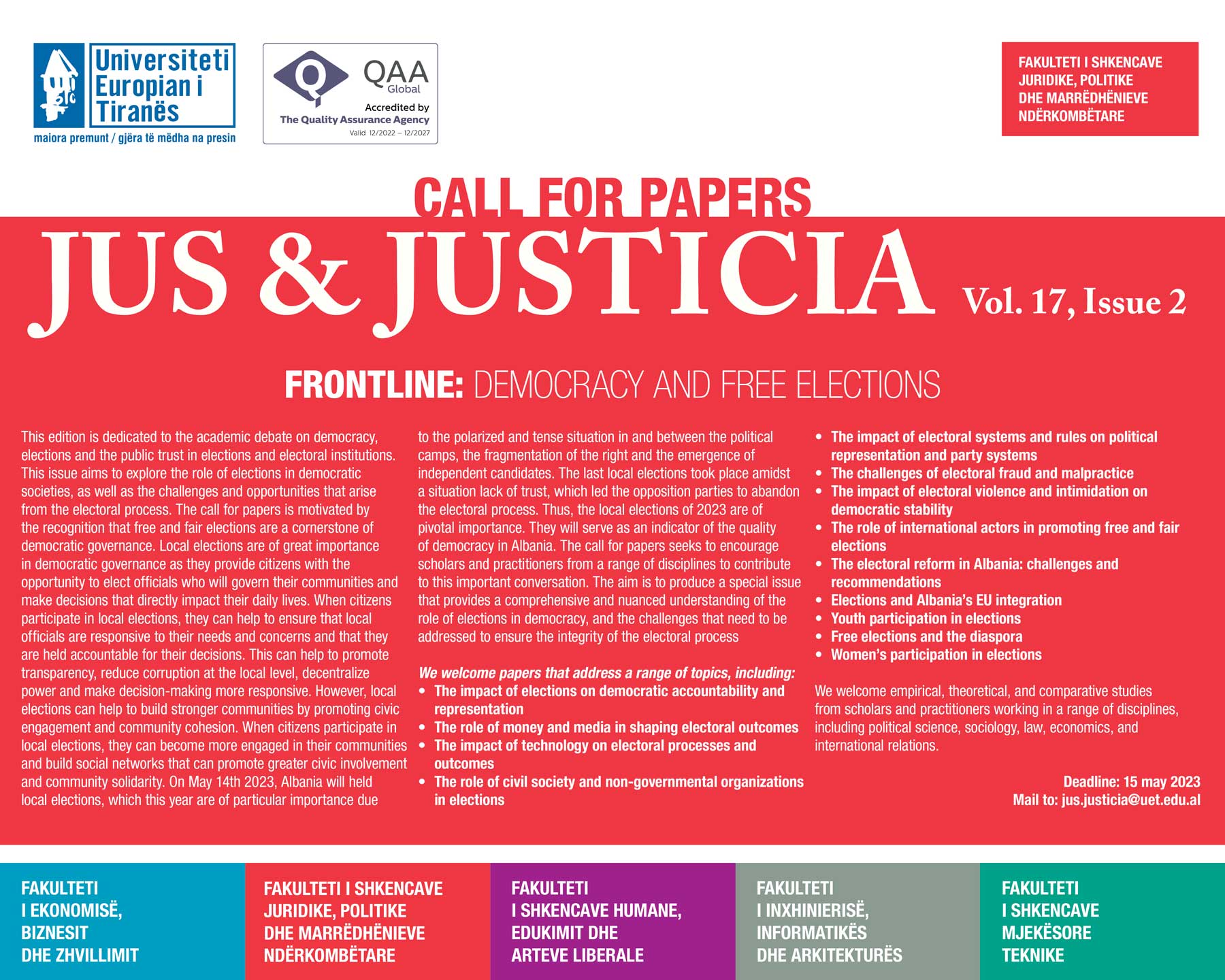 Democracy and free elections
Extension of submission deadline _ Call for Papers at the Journal Jus &Justicia Vol. 17, Issue 2 "Democracy and free elections".
Extended Deadlines: 
– Full research paper submission – 15 June 2023
Please submit your research papers to: https://uet.edu.al/jus-justicia/submit-a-manuscript/
For further information, do not hesitate to contact us.
This edition is dedicated to the academic debate on democracy, elections and the public trust in elections and electoral institutions. This issue aims to explore the role of elections in democratic societies, as well as the challenges and opportunities that arise from the electoral process.
The call for papers is motivated by the recognition that free and fair elections are a cornerstone of democratic governance. Local elections are of great importance in democratic governance as they provide citizens with the opportunity to elect officials who will govern their communities and make decisions that directly impact their daily lives. When citizens participate in local elections, they can help to ensure that local officials are responsive to their needs and concerns and that they are held accountable for their decisions. This can help to promote transparency, reduce corruption at the local level, decentralize power and make decision-making more responsive. However, local elections can help to build stronger communities by promoting civic engagement and community cohesion. When citizens participate in local elections, they can become more engaged in their communities and build social networks that can promote greater civic involvement and community solidarity.
On May 14th 2023, Albania will held local elections, which this year are of particular importance due to the polarized and tense situation in and between the political camps, the fragmentation of the right and the emergence of independent candidates. The last local elections took place amidst a situation lack of trust, which led the opposition parties to abandon the electoral process. Thus, the local elections of 2023 are of pivotal importance. They will serve as an indicator of the quality of democracy in Albania.
The call for papers seeks to encourage scholars and practitioners from a range of disciplines to contribute to this important conversation. The aim is to produce a special issue that provides a comprehensive and nuanced understanding of the role of elections in democracy, and the challenges that need to be addressed to ensure the integrity of the electoral process.
We welcome papers that address a range of topics, including:
The impact of elections on democratic accountability and representation
The role of money and media in shaping electoral outcomes
The impact of technology on electoral processes and outcomes
The role of civil society and non-governmental organizations in elections
The impact of electoral systems and rules on political representation and party systems
The challenges of electoral fraud and malpractice
The impact of electoral violence and intimidation on democratic stability
The role of international actors in promoting free and fair elections
The electoral reform in Albania: challenges and recommendations
Elections and Albania's EU integration
Youth participation in elections
Free elections and the diaspora
Women's participation in elections
We welcome empirical, theoretical, and comparative studies from scholars and practitioners working in a range of disciplines, including political science, sociology, law, economics, and international relations.
Deadline: 15 June 2023
Mail to: [email protected]