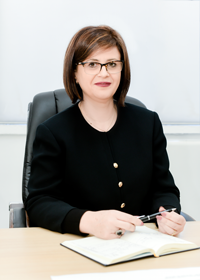 PROF. DR. DRITA KRUJA – VICE RECTOR FOR TEACHING PROCESS AND SCIENTIFIC RESEARCH
Prof. Dr. Drita Kruja has 23-years of academic career in Higher Education Institutions in Albania and abroad, where she has held several leading positions such as: Vice-Rector, Head of the University Administration Board, Dean, Head of Department, Head of the award committee for "Doctor" degree, etc.
She has completed undergraduate and postgraduate studies at the Faculty of Economics of the University of Tirana. She has research and teaching experience in many international academic institutions such as the University of Bologna and Florence in Italy; Roskilde University of Social Sciences in Denmark; University of Applied Sciences in Bocholt and Eberswalde in Germany; Polytechnic University of Catalonia in Spain; University of Economics in Prague, Czech Republic; Corvinus and Obuda University in Budapest, Hungary; University of Maribor in Slovenia; Sandhills Community College; University of Pembroke, Central Carolina University, East Carolina University, USA, etc.
As a member and leader of research teams, Prof. Dr. Kruja has participated in many research projects locally, nationally and internationally. Prof. Dr. Kruja has published as a sole and co-author three university texts, four book chapters published by Routledge, as well as many scientific articles with impact factor.