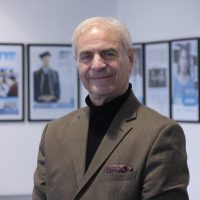 Prof. Dr. Petraq Papajorgji
Profesor Petraq Papajorgji ka një experiencë të gjatë në fushën e kerkimit shkencor dhe të mësimdhënies në fushën e informatikës. Është kryeredaktor shkencor in revistes "International Journal of Agricultural and Environmental Information Systems" botuar në USA, anëtar bordi I disa revistave ndërkombëtare.
Prof. Papajorgji ka një listë të gjatë botimesh në revista shkencore me factor impakti, si dhe rreth 14 libra të botuar nga Springer dhe IGI Publishing. Në vitin 2018 është vlerësuar me çertificate nderi për kontribut të shquar nga revista "Journal of Computers and Electronics in Agriculture" me impact faktori 2.427. Eshtë Fullbright scholar në vitin 1992.
Fusha e kërkimit shkencor është modelimi i sistemeve kompleks të informacionit bazuar në modelet.