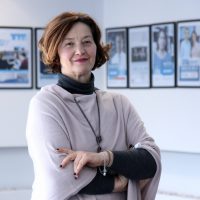 MSc. Etleva Haxhihyseni
Etleva completed in 1984 the studies in the full program of the Faculty of Teaching at the Higher Pedagogical Institute "Aleksandër Xhuvani" Elbasan, graduated as Teacher on Primary Education, grades I-IV.
Takes the role of pedagogical coordinator in Danida project, in qualifying courses for the development of contemporary methodology, management and educational in Elbasan District.
Full qualification program (1997-2003), in Nørre Nissum Seminarium, Denmark, graduated as a "Mentor in educational theories, modern methodology and educational management and organization" in December 2003.
Certified by the Open Society Institute in New York and the International Reading Association in Washington for "Developing Critical Thinking in Reading and Writing", participating in the full course for Teachers, School Leaders and Educators ", Tirana 2000. She worked at Wilson Educational Institute, 2006-2012, where she holds the role as Chief of Dpt. Primary Education.
Along 2012-2014 she worked at the World Academy of Tirana, international education system (International Baccalaureate-English IB Education).
University "Aleksandër Xhuvani", Elbasan as a part-time Ass/Lecturer at the Faculty of Social Sciences and Education, Dpt. Teaching Methodology.
In 2015 he completes the second cycle of full-time university studies at the European University of Tirana at the Faculty of Social Sciences and Education, with the profile of School Administration. Field of scientific research "Promoting creativity, through interdisciplinary integration in Primary Education" and "Promoting an active life in childhood, for a healthy lifestyle." Research and articles published during 2015-2020.
She actually is Member of Management Comity in COST Action: CA16206 (European Cooperation in Science and Technology), from February 2020.
Active in elaborating project of the Council of Europe, B-Sport + 2020-2024.
Etleva has contributed to MASR (Ministry of Education Sports and Youth) in the evaluation of textbooks. She lectures in trainings organized by MASR. She is fluent in English. Planning to get a PhD degree and contribution in educational sciences.